About Flow Fitness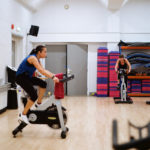 Hello, my name is Victoria and I run Flow Fitness: fitness classes, personal training, nutrition advice and life-coaching services based in Oxford. I am a fitness instructor with over 15 years of experience in the industry. Flow Fitness operates a range of fitness classes from the north east to the south east of Oxford at present, catering for a wide range of different client groups.
My belief is that training should be challenging but also fun for it to be sustainable. Unlike the large corporate gyms I like to see all our users as individuals with differing needs and I place strong emphasis on family fitness and fitness in the community. I am not just here for the highly motivated, lean, experienced fitness fanatic, but want to make fitness fun and beneficial for everybody, from the youngest to the oldest in our community and including those with controlled health considerations or for whom weight management is an issue.
I have a distinction in Personal Training and Sports Coaching. I hold certificates in Keizer Spinning, Dance Aerobics and a diploma level three in Pilates. I also have a level five diploma in health, diet and nutrition, along side being a qualified life coach. I am a registered exercise professional.
For health, there's truly no substitution… you are in fact the solution! And feeling anything less than good is simply not worth it. So sign up for a class today or get in touch for a free consultation!
My theory on exercise is that we must incorporate activity into our weekly routines alongside a balanced diet. Allowing exercise to flow into your life, increasing your ability and maintaining it with realistic goals thereafter. It is important to get a balanced exercise routine incorporated into your fitness regime, including cardiovascular work, strength building exercises, a range of movement within our joints and balance. Assisting in maintaining a healthy heart, lungs, blood circulation, creating lean muscle, flexibility, good strong bond density and weight management.
I would very much like to support you in becoming more active, health and your wellbeing will improve as a result, so if you have any questions please do contact me!